Boston Plastic Surgery Has a New Look
Posted on October 31, 2014

|

by Boston Plastic Surgery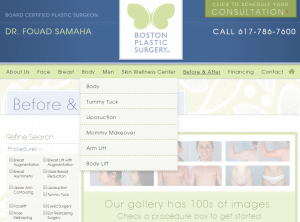 We are pleased to announce that we've just launched our newly redesigned website. We've been hard at work to bring you a fresh new look, easy-to-navigate layout, and updated information about our services—we hope you like what you see!
Some of our new and improved features:
Responsive, mobile-friendly design means you can browse anywhere, anytime, and on any device.
New menu design with everything you need easily accessible.
Enhanced Before & After photo gallery that enables you to "favorite" images so you can find inspiration in previous patient photos, compare results, and help frame your own goals.
Updated Patient Resources
We have reorganized and updated our patient resources to provide you with helpful, pertinent information while you are researching and planning a procedure of interest. Find in-depth information about the wide variety of procedures, treatments, and services we offer at Boston Plastic Surgery.
Our goal is to provide you with the information you need, including:
Overviews of procedure choices, options, and price ranges
What to expect during your consultation
Advice for aftercare and recovery
We want you to have access to relevant, useful content as you consider choosing us to meet your aesthetic goals.
Whether you're planning your surgery, exploring your options, or simply thinking about cosmetic surgery, we invite you to explore our new website! And, as always—we encourage you to reach out with any comments or questions.