Skin Aging 101 – From a Nurse Practitioner
Posted on September 13, 2022

|

by Boston Plastic Surgery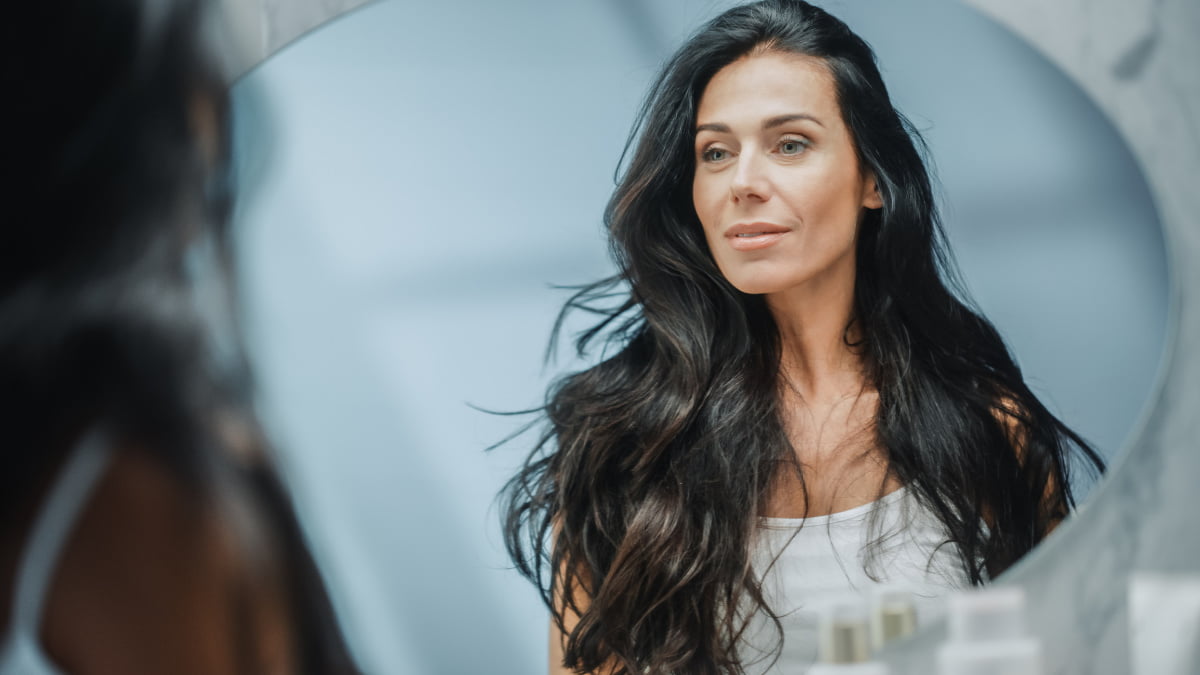 Why does skin age? Can I slow down skin aging? These are two questions we hear quite often at our Skin Wellness Center at Boston Plastic Surgery. Today, our very own Nurse Practitioner Rachel Cohen, DCNP, APRN, BS sits down to explain the types and causes of skin aging—and what you can do to combat it (as much as possible!).
What causes skin aging?
As no exception to every organ in the body, our skin starts to age the day we are born. Intrinsic aging is the inevitable and normal biologic process of aging and is pre-determined by genetics. Extrinsic aging is superimposed on intrinsic aging and is caused by external factors, including UV radiation, smoking, and pollutants… all of which can be modified by our behaviors. It is the extrinsic process that leads to signs of "premature" skin aging, including pigmentation changes, lines and wrinkles, and changes in skin texture.
Prevention is the first step in minimizing premature skin aging and includes protection and skin cell optimization. Recommendations for sun protection from the American Academy of Dermatology include:
Seeking shade during peak daylight hours
Wearing sun protective clothing
Applying a broad-spectrum, water resistant sunscreen of SPF 30 at least every 2 hours while outdoors
Air pollution has also been shown to contribute to premature skin aging through oxidative stress yielding chronic inflammation and disorganization of skin cell functions. Although our skin has a natural antioxidant defense system, it is important to support this system through proper skincare (cleansing), protection (antioxidants), and avoidance (smoking cessation).
What can I do to promote skin health as I age?
Skin cell optimization refers to keeping our skin as healthy and active as possible. Just as we engage in activities to keep our heart and lungs healthy, our skin deserves the same attention. The skin's biologic function slows and weakens as we age. Using products like retinol or retinoic acid and treatments such as laser peels can help regulate the skin cell function keeping it healthy and strong at any age. My patients often hear me refer to these products and procedures as "taking the skin to the gym". The more you do it, the healthier your skin will be.
Here are a few of my favorite products and procedures offered at Boston Plastic Surgery aimed at skin protection and optimization:
ZO Getting Skin Ready Kit – customized cleanser, toner and exfoliator that helps to normalize the skin, remove damaging surface debris, and "prime" the skin to respond better corrective and preventive treatments
ZO Daily Power Defense – antioxidant packed serum that protects the skin from environmental stressors
Alumier EverActive C&E + Peptide – potent, clinically validated and optimally activated 15% Vitamin C, plus vitamin E, antioxidant serum
ZO Retinol – Customizable retinol aimed at accelerating skin cell turnover, increasing collagen production, and minimizing and reversing photodamage.
CoolPeel – CoolPeel® is a brand new way to safely, and comfortably deliver the benefits of a traditional CO2 resurfacing treatment. By targeting just the superficial layer of skin tissue, damaged skin is removed revealing younger and healthier looking skin.
My patients often hear me refer to these products and procedures as "taking the skin to the gym". The more you do it, the healthier your skin will be.
Get the best skin care from our experts at Boston Plastic Surgery
We seek to educate our patients about the basic functions of the skin and it's supporting structures, the aging process, and the products and treatments offered at Boston Plastic Surgery aimed at skin preservation, protection, and rejuvenation. With this knowledge, we hope to empower you to make informed decisions about how we can work together to achieve your goals.
Board certified plastic surgeon Dr. Fouad Samaha and our team of licensed nurses and aestheticians can help you rejuvenate your appearance with a full line of state-of-the-art laser procedures, phototherapy, microneedling, radiofrequency skin tightening, medical-grade skin care, and exfoliative chemical and natural peels. Our licensed medical aestheticians can design a custom treatment plan specifically suited to your needs.
Find out why patients travel from all over Boston and its surrounding areas to meet with Dr. Samaha and our staff—schedule your personal consultation online or call (617) 786-7600.