A recent video has been making its rounds and awing viewers with what is being dubbed "electronic makeup." Producer Nobumichi Asai and a team of CGI experts, makeup artists, and digital designers used projection mapping technology to project photorealistic graphics onto a model's moving face. The result? Real-time projections of traditional makeup, geometric patterns, and futuristic face masks that move seamlessly with the model.
The shape and contours of the model's face were mapped after an initial scan, allowing the projection to follow her movement and retain precise placement on her face. After the scan, graphics were overlaid and adjusted in real-time to produce an eerily-realistic makeup application that responds to head movement, changes in facial features, and the opening and closing of her eyes.
Although the results are fascinating, many are wondering if there are any real world applications. For us, the question of how this technology could be used to help our patients is at the forefront.
Previewing plastic surgery results isn't a new arena. 3D simulation technology for cosmetic surgery graces many consultation rooms, allowing patients a sneak peek at their potential breast augmentation or facial surgery results. Here at Boston Plastic Surgery, Dr. Samaha utilizes Axis 3D portrait technology to help patients visualize surgical results on their own bodies. From trying breast implants on for size to seeing how facial treatments can change your appearance, this technology has become an invaluable tool in the process of designing plastic surgery treatment plans that are tailored to an individual's anatomy.
But where is it going next? With Asai's groundbreaking face mapping, is there potential for a medical application? We like to think so. Once the technology is honed, perhaps surgeons can use it to show patients what their results may look like, all in real time. Imagine going to a surgeon's office to discuss options for reducing signs of aging and being able to see the possible results of a facelift projected onto your own face. This technology could allow patients to see results as they move their facial muscles, enabling them to witness how surgery will change their appearance.
We might not be there yet, but it's exciting to think of the possibilities. The plastic surgery field is changing daily thanks to newly emerging technology, and no one knows where it may be heading.
What technology would you like to see at your surgeon's office in the future?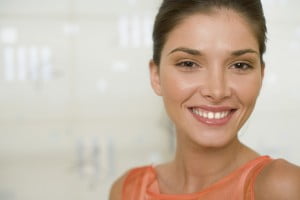 Eventually, we all experience the effects of aging on our faces, some of us earlier than we would like. If you're wondering whether you are too young for a facelift, it may be a good indication that it's time to begin exploring your options. A well-executed facelift can help patients as young as 40 turn back the clock and maintain a refined, youthful appearance.
Don't focus on how old you are; we all age differently
How we age is as individual to us as our fingerprints. Genetics, diet and lifestyle, and even environment all influence how young or old a person may look for his or her age. A 40-year-old with not-so-great hereditary traits or lifestyle habits may have more advanced sagging and facial wrinkles than a 50-year-old in good health who wears sunscreen daily.
Ultimately, there is no universal right age for a facelift—only the right time for you. If you are starting to see sagging of the cheeks, lower face, or neck, then it's a good time to consider facial rejuvenation, regardless of how old you are. In fact, some of the best-looking older celebrities maintain their ageless appearance by catching these signs of aging early, before a dramatic change is required.
Having a facelift earlier in life has its advantages
The truth is, having a facelift when you are younger has many benefits. Because the skin's elasticity and underlying tissue volume are still relatively good in your 40s, your surgeon can achieve better, more natural-looking results. Also, turning back the clock early means you'll enjoy the results for that many more years. Younger patients also typically heal more quickly and carry fewer risk factors going into surgery.
Younger patients have more options
Taking a proactive approach to treating early signs of aging gives you a wider range of choices, allowing you to get excellent results with a less costly treatment plan.
If you are mainly bothered by early jowling around the lower cheeks and neck, a mini facelift can be an excellent option. With smaller incisions and less downtime than a full facelift, a mini facelift can still help you look years younger and even postpone your need for future treatments. Neck contouring alone may also be an option, if that area is your primary concern.
Non-surgical alternatives
Non-surgical injectables like BOTOX® or Juvéderm® are excellent for treating specific facial wrinkles, such as frown lines, crow's feet, or marionette lines. While injectables cannot provide the lifting that comes with a surgical procedure, they are ideal for treating certain types of wrinkles. Injectables may also be used to complement surgical rejuvenation. Additionally, treating the skin's surface with a chemical peel or physician-grade topical products can give you a more youthful glow.
If you're unhappy with the way your face is aging, consulting with a qualified plastic surgeon is the first step. Contact us today to schedule a consultation with Dr. Samaha, who can help you design the best treatment plan to meet your goals.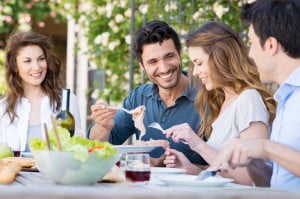 A delicious way to celebrate the perfect partnership of salmon, dill, and tart citrus, this dish not only tastes great, but offers a mixture of healing ingredients. Salmon is packed full of protein, omega 3 fatty acids, and vitamin D—a combination that promotes your natural healing process and is also anti-inflammatory. The citrus in the recipe provides a wide range of benefits, from helping to balance the body's pH to offering anti-viral properties.
The original inspiration for this recipe was a dish I had at a restaurant in St. Thomas called "Salmon with Four-Citrus Sauce." I have tinkered with the preparation and made many variations over the past 20+ years, so there's no telling how close the current version would be to the original dish. One thing has stayed constant—it's always delicious! Best of all, it requires very little preparation and can be made in one pan as a quick restorative dinner or to enjoy with company.
Preparation Time: 10-15 minutes
Cooking Time: 10-15 minutes
Serves:Four
Ingredients
4 Salmon Fillets, preferably wild-caught 3 Medium Shallots Fresh Dill Lemons Orange, Grapefruit, and/or Lime Juice (the more citrus the better!) White wine, such as Sauvignon Blanc, about 1/3 cup ButterCooked Rice (optional- see recipe for lemon-dill rice below) Orange or grapefruit slices (optional garnish)
Preparation
If enjoying with rice, get the rice started first as it takes the longest. Finely chop the shallots and mince a generous cup of dill, reserving some of the sprigs for garnish. Squeeze ½ cup of lemon juice and add another ¾ cup of other citrus juices—orange for a sweeter taste, grapefruit and/or lime for more tartness.
Season the salmon with kosher salt, coarsely ground black pepper, and some of the minced dill.
Cooking
Heat a large pan over medium-high heat and melt a tablespoon of butter. Add the salmon, skin side down, and cook for about 2 minutes before turning the fillets over. After another 2 minutes—when the flesh side is slightly seared, but the inside is still a little soft—remove the salmon and reserve on a plate.
In the same pan, cook the shallots until soft and just beginning to brown. Add some white wine to deglaze the pan, stirring with a wooden spoon and picking up the brown bits, until it is reduced to a thin syrupy consistency. Add the lemon and other citrus juices and cook until reduced in half. See note below. Add the dill to the pan and put the salmon (and any juices that came out of it) back into the pan to warm and then serve on a plate or bed of rice with the sauce spooned over. Sprinkle with additional dill for brighter color and add dill sprigs and/or citrus slices for garnish.
Lemon-Dill Rice
Prepare about 2 cups of your favorite rice (I prefer Basmati). When it is fully cooked, stir in 1 tablespoon of butter, grated zest of 1 lemon, and some chopped fresh dill for an aromatic, flavor-packed rice to complement your salmon.
Note: If serving over rice, I don't let the sauce get too thick so that it can be absorbed by the rice. If you prefer to thicken the sauce, you can add 1-2 tablespoons of butter or use ½ teaspoon of cornstarch that is pre-dissolved in a small amount of cold water.
Curious about the benefits of Botox, but unsure if you're ready to take the plunge? Now you can follow one of our patients as she undergoes a comprehensive non-surgical treatment plan.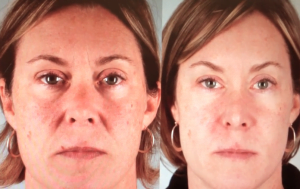 Meet Kelly. At age 42, Kelly was beginning to notice the typical early signs of aging: wrinkles around her nose, mouth, and eyes, dull skin, and a general tired appearance. Ready to revitalize her look, she requested treatments to improve her complexion, lessen the appearance of facial lines, and add volume to her thin upper lip.
She agreed to let us document her journey over the course of a year so you can see firsthand how non-surgical treatments like Botox, Juvéderm, and skin resurfacing can help someone like you look younger without a facelift.
Phase 1: Fighting Frown Lines & Refreshing the Upper Face
The first step in Kelly's treatment plan was to address lines around her forehead and glabellar region (between the eyebrows) using Botox. As an injectable neurotoxin, Botox works by relaxing the muscles responsible for frown lines, crow's feet, and other wrinkles, mainly in the upper face.
After discussing with Kelly her goals for the procedure and creating a plan to produce the desired effect, we administered a series of injections to treat the areas. Botox typically takes 10-14 days to settle and show complete results, so we invited Kelly back for her follow-up appointment two weeks later to evaluate the results and plan our next step. Watch the first segment of Kelly's transformation here.
Phase 2: Volumizing and Softening the Lower Face
For the second part of Kelly's transformation, it was time to discuss a strategy to address lost volume in her mid to lower face. Dermal fillers, which are injected beneath the skin to add fullness to facial features, are well-suited to this job. When used in tandem, Botox and fillers can each enhance the results of the other, delivering more satisfying results than any single treatment—this is our goal for Kelly.
We agreed to start with Juvéderm to soften her deep nasolabial folds. Juvéderm will last between 9 months to a year and takes about three months to fully settle in, meaning Kelly will continually see improvement for some time after her initial treatment.
Behind the Scenes Skincare
During each phase of her transformation, Kelly has met regularly with our Aesthetician for laser skin resurfacing and chemical peels to address her skin concerns and to plan a good at-home skincare routine to help maintain her rejuvenated appearance. As you can see in the second segment, this personalized combination of Botox, fillers, and skin care has made a dramatic difference in helping Kelly look younger and fresher without a facelift.
Why not begin your own youthful transformation?
If you'd like to make some of the same improvements that Kelly has enjoyed, now is the perfect time to get started. We're offering exclusive summer injectable specials for you! When you try VOLUMA today, you can receive $100 off of your next Botox treatment. Call us today at (617) 786-7600 to set up your consultation and begin your journey.
Be sure to stay tuned to see more amazing results from Kelly's year-long transformative adventure.
It turns out that we have our own gourmet cook on hand: Dr. Samaha! In addition to being a skilled surgeon, he's also mastered many different cuisines. Because good nutrition is such an important part of a healthy lifestyle, we're sharing some of his culinary secrets in a series of posts featuring favorite healthy, tasty recipes. Here's the first—a tasty summer dish perfect for post-op patients. Enjoy!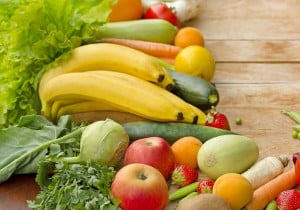 Eating a healthy diet can help prime your body to heal more efficiently after cosmetic surgery. In our experience, patients who eat mostly whole foods that are rich in vitamins & healthy fats have an easier, swifter recovery than those whose diet contains a lot of highly processed foods.
Although your body will be needing highly nutritious food during the initial days of your recovery, you're not likely to be up to cooking and shopping. Plan ahead by stocking your fridge ahead of time with a selection of healthy, easy-to-eat meals. Supplementing your post-surgery meal plan with some favorite comfort foods is okay too; just keep sugary and processed foods to a minimum.
We asked Dr. Samaha to share one of his favorite summer recipes that would meet all the requirements of a healthy recovery meal: easy to prepare ahead, delicious to eat, and full of superstar nutrients to help your body heal. His pick? A salad featuring summer's best: garden-fresh tomatoes, basil and sweet peppers.
Summer Salad with Brown Rice, Tomatoes, Basil & Spinach
The tomatoes, peppers, and spinach in this colorful salad are packed with the antioxidants Vitamin C, beta-carotene and lycopene to help your body heal at the cellular level after surgery (and fight premature aging from free radicals any time). The brown rice is also a great source of selenium (another antioxidant) and fiber, an important part of your diet all the time, but especially during recovery from cosmetic surgery—fiber helps to offset the constipating effect that pain medications can cause. Best of all, you can make this salad ahead of time and it's so good that everyone in your house will love it (and it's so easy you can probably convince your family members to make more).
1 c. brown rice
2 c. water
½ tsp. salter
2 Tbsp. olive oil
2 tsp. white balsamic vinegar
1 clove of garlic, minced
¼ tsp. cracked black pepper
2-3 medium sized tomatoes, seeded & diced
2-3 cups of fresh spinach leaves
1 yellow bell pepper, thinly sliced
1 medium cucumber, peeled & diced
1 handful fresh basil leaves, thinly sliced
8 oz. fresh mozzarella cheese, cubed
Salt & pepper to taste
1. Cook & cool the brown rice.
Bring rice, water and salt to boil in a large saucepan. Stir, reduce to a simmer and cook 30-45 minutes, or until water is mostly absorbed. Remove from heat and let sit covered for 10 minutes. Fluff with a fork, and let cool completely. You can do this a day or two ahead of time. (If possible, refrigerate the cooked rice overnight. This helps the grains separate nicely, making it easier to stir in the other ingredients.)
2. Whisk together the dressing.
When you're ready to make the salad, pour the olive oil in a small bowl. Slowly pour in vinegar while whisking constantly. Whisk in the salt, pepper, and minced garlic.
3. Mix the salad.
Place the brown rice in a large bowl; toss with the dressing so it coats evenly. Gently toss in the tomato, bell pepper, cucumber, basil, and fresh mozzarella. Add salt & pepper to taste.
4. Enjoy!
You can eat this salad immediately, or store it in the fridge for up to 5 days. It's also easy change up to fit your tastes. Try substituting 4 oz. of crumbled feta, minced fresh oregano, and lemon juice for the mozzarella, basil, and white balsamic vinegar, respectively to make this a Greek style dish. Or, top with grilled Maine shrimp for an extra boost in protein.
We hope you make this recipe yourself! Even if you aren't planning to have cosmetic surgery, this salad makes the perfect lunch on the go or easy supper on these hot summer nights. If you do give it a try, let us know what you think! We always love to hear from our community.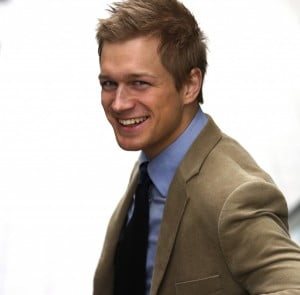 Perhaps we're biased, but we believe that Bostonian men stand out from the others. They are handsome, classy, tailored, and (of course) a bit salty. Men from Boston need clothes to match that style—shops that are sophisticated but with a personality of their own. So, we decided to recognize three of Beantown's top menswear shops that keep our Boston men looking sharp. If you're tired of shopping at chains and department stores, these establishments offer superior service and apparel that is classic yet unique—just like the men who shop there!
MR. SID
For more than 40 years, this 15,000-square foot emporium has offered an incomparable selection of clothing for men. The store carries top lines from around the world and features a team of dedicated professionals that will help you choose the pieces that make you look and feel your best. With expert, old-world tailoring and made-to-measure services, Mr. Sid can help you find the perfect fit every time, for any occasion. They also have a men's hair salon!
LOUISBOSTON
Louis is a true Boston institution. Founded in the late 1800s and still family owned and operated, Louis has helped dress generations of Bostonian men. The store specializes in personal attention; whether your look is classic, casual, trendy, or something in between, you will find it at LouisBoston. They recently held a workshop event to preview 2014 fall fashion for men, showcasing the bespoke (custom made) clothing offered from this truly one-of-a-kind store.
NATALE'S
Fashion is "tailor made" at Natale's. You won't find brand name labels here—only impeccably constructed classics carrying the Natale's label, because owner and master tailor Natale Agostino has his line manufactured in Italy from carefully curated fabrics. If it's a suit you're looking for, Natale's offers more than 2,000 in a huge range of sizes and provides free alterations for the life of any garment. They have a knowledgeable staff with more than 100 years of combined experience and are dedicated to excellent customer service.
They say clothes make the man, but sometimes clothes aren't quite enough. If you're looking for a little more help than a new wardrobe can provide, visit Dr. Samaha for a consultation. If you are considering a cosmetic improvement, discuss your goals with him, whether you'd like to look a little younger or have a more proportional physique. Contact us today for more information about the men's aesthetic treatments we offer.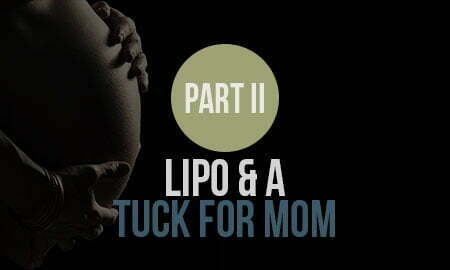 In last month's blog I discussed how nine months of pregnancy can affect a woman's body. This month, I want to discuss the procedures involved to get your body back to looking how it was pre-baby.
EVERY PREGNANCY IS DIFFERENT… SO YOUR MOMMY MAKEOVER SHOULD BE TOO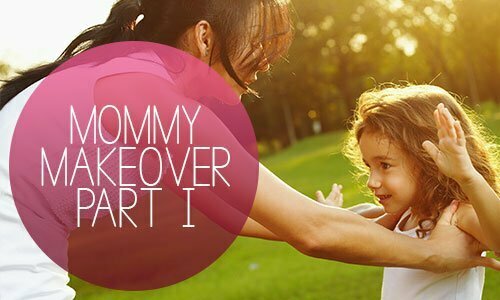 Mommy Makeovers are designed to help moms feel like themselves again. Nine months of pregnancy and the added months of nursing certainly take its toll on a woman's body. In this three part Mommy Makeover series, find out just how unique you a makeover can be.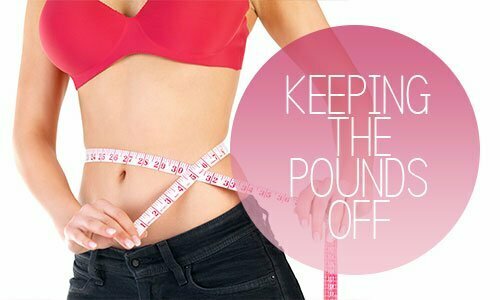 The tummy.
It is the hardest place to lose those pesky pounds. It is even harder to keep the weight at bay from your tummy once you've lost it. Recent studies are showing patients who undergo abdominoplasty – better known as a tummy tuck – are keeping the weight off and even losing weight long after their surgery.
Learn more about the long lasting benefits of the tummy tuck.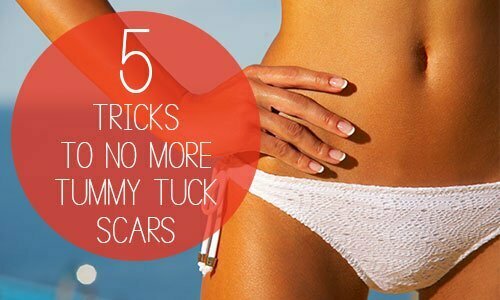 While the advantages of a tummy tuck seem to be endless, one concern patients seem to have is the scar that remains after the procedure. While scarring is inevitable, there are several recommendations for the care of your tummy tuck scar to insure its rapid fading and your confident return to your bikini.
Find out what the 5 tricks to treating tummy tuck scars.