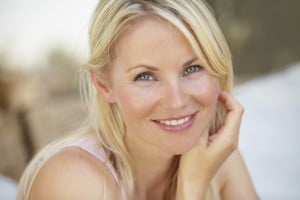 Your skin is one of the first things people notice when they meet you. Improving your skin brightens your entire outlook and lets you share your beauty with the world. Helping your face look its best is now easier than ever with Dermapen®.
The Skin Wellness Center at Boston Plastic Surgery recently introduced this breakthrough microneedling device that tightens, lifts, and rejuvenates your skin in as little as one visit. Dermapen is minimally invasive, and most of our patients report that treatment is comfortable and they just feel a very slight pinching sensation.
So, why do we love this new device? Find out below!
1. Technology that Heals
Dermapen uses extremely fine needles to prompt a healing response that increases elastin and collagen production, leaving your skin instantly smoother with fewer scars and blemishes. The hand-held device delivers thousands of tiny micro-punctures to the skin, creating a controlled "injury" that triggers your natural healing. Healthy skin cells grow to replace damaged cells, stimulating collagen and elastin production and making your face smoother, brighter, and healthier.
While traditional dermal rollers tug at the skin, Dermapen uses an up and down motion that is easier on your face. The device controls the depth of each needle, which allows us to deliver precise results, even in hard-to-reach areas. The treatment requires no downtime and quickly delivers clearer skin, fewer wrinkles, and a dramatic reduction in blemishes and acne scars.
2. The Gold Standard
Microneedling with Dermapen is safer and more effective than traditional microneedling devices, which can be uncomfortable and leave your skin red and irritated. Dermapen avoids unnecessary trauma while providing maximum results, especially when administered by a trained medical professional.
3. A Bright Future
You don't have to commit to surgery or invasive treatments to refresh, brighten, and rejuvenate your face. Embrace your beauty with a device that removes old scars and brightens your complexion.
Learn more about how you can benefit from Dermapen microneedling by scheduling your consultation with Kathy or Jennifer at our Skin Wellness Center. If it's more convenient, we'll be happy to consult with you by phone. Please give us a call to learn more!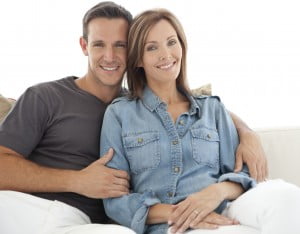 We know you're curious. Sex is a healthy part of most people's lives, and wondering when you can resume having sex after plastic surgery is natural. Even so, asking a surgeon "when can I have sex again?" makes some patients feel uncomfortable. We want to assure you that your plastic surgeon won't blush at the question and will be happy to provide an answer, because they know just how important it is to be aware of physical restrictions during recovery.
How long you should wait depends on the procedure, your comfort level, and your body's ability to heal. With your new and improved look, you and your partner may be anxious to regain your rhythm, but by giving yourself the time you need to recover, you'll be more likely to have results you love. You may find that waiting also makes a return to activity even better than expected!
Breast Enhancement Surgery
While it can be frustrating to limit sexual activity when you have new curves, it's important to wait until your breasts have healed enough for intimate activities. The two biggest concerns with breast surgery are wound disruption and bleeding, which may occur as a result of too much physical activity, including sex.
For breast procedures, it is best to wait at least two weeks before having sex. Be sure to pay attention to your incisions—they are prone to infection and bleeding if not properly taken care of. Waiting to have sex until they are healed can considerably reduce risks.
After the first two weeks, approach physical intimacy carefully and slowly. When having sex after breast augmentation, avoid manipulation of the breasts or movements than may cause you or your partner to disrupt the placement of the implant for around six weeks.
The timeline will differ if you've had breast lift surgery along with your augmentation. No matter which exact breast procedure you've had, get final word on when you can resume sexual activity from your plastic surgeon.
Body Contouring Surgery
After having a body contouring procedure, such as liposuction or a tummy tuck, you are likely to experience moderate soreness and swelling. When it comes to resuming sexual activity, your personal level of comfort will be a large factor.
With liposuction, there is no specific body structure you can damage with physical activity or sex, meaning your soreness and the healing of your incisions may be the only thing that may stops you from being intimate. You can resume having sex as soon as you feel both physically and emotionally ready to do so, which takes about a week for many patients.
Abdominoplasty surgery, on the other hand, will require much more healing time. If your recovery is smooth and uncomplicated, expect to wait three to four weeks to have sex after a tummy tuck. That said, don't count on general time frame: it's important to discuss the progress of your own healing during post op visits with your surgeon, as your ability to safely have sex after surgery will be dependent upon muscle repair, incision healing, and the presence of drains. To be safe, get specific clearance from your surgeon as to when you can resume normal sexual activity.
Facial Rejuvenation Surgery
Although it may seem like your face wouldn't be affected by sexual activity, it is still risky to be physical too quickly after your procedure.
When it comes to facial procedures such as facelift surgery or rhinoplasty, the biggest risk lies in elevating your blood pressure, which can cause bleeding at the surgical site or swelling in the head. Because it's difficult to regulate blood pressure during physical exertion, it's best to avoid having sex for at least three weeks.
If you've had rhinoplasty, there are additional concerns. Your nose will need six to eight weeks to truly heal, and having sex before you've fully recovered could result in nasal trauma that may alter your surgical results. When having sex after rhinoplasty, be sure to be gentle and avoid positions that could bring your nose in contact with any other surfaces.
The Bottom Line on Getting Back to the Bedroom
While following these suggested timelines can be a good starting point, the best way to find out if you are ready to have sex after your procedure is to talk with your plastic surgeon. Staying safe while you're having fun will help keep you healthy and preserve your results.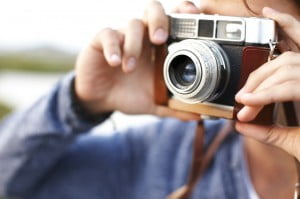 When photographer Nicholas Nixon asked his wife and her three sisters to pose for a family portrait in 1975, no one expected it to become the project of a lifetime. Unhappy with the initial image, he attempted to recreate the photo the following year, and thus began a 40-year-long photo series capturing the four sisters' journey through time. Nixon describes the Brown Sisters photographs as an "annual rite of passage" that at once documents aging, the passing of time, and the unique ties of sisterhood.
All the portraits are in black and white, with the sisters standing in the same order. However, the photos are far from monotonous. Through time, the sisters change: you see the women aging, of course, but viewers can also witness subtle changes in the sisters' demeanor and affection toward each other.
Our favorite aspect of this series is seeing the sisters evolve, both physically and emotionally. In earlier photos, the sisters are young, but seemingly detached from each other and the camera. As they age, they seem to grow closer, warming up to the camera and revealing more of their personalities on film.
This captivating and touching photo series will soon be on display at the Museum of Modern Art, in addition to the publication of the book, "The Brown Sisters: Forty Years." See the collection and read more here.
**Sweepstakes is closed & the randomly selected winner will be notified**
The holidays are right around the corner and we want to gift you with a little traditional Boston magic. One lucky winner will receive two tickets to the Boston Christmas Pops annual holiday performance on Friday, December 5, 2014 at 8:00 PM!
By entering our giveaway, you and your +1 could have the chance to celebrate with conductor Keith Lockhart and the Boston Pops at the Boston Symphony Hall as they bring you an enchanting evening of holiday music favorites, their famous sing-a-long, and a special appearance from Santa Claus.
Get the Details
What: Two tickets to see Holiday Pops with Keith Lockhart & the Boston Pops in the orchestra section.
When: Friday, December 5, 2014 at 8:00PM
Where: Boston Symphony Hall
Enter your email address below for your chance to win. Earn bonus entries by spreading the word on social media or by referring your friends with just a click of the button. The sweepstakes will end on Friday, November 21 at 5:00PM EST and the winner will be randomly selected and contacted on Monday, November 24. Good luck!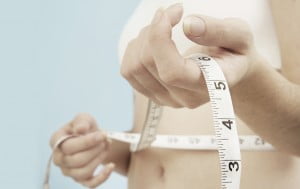 Getting slimmer is extremely beneficial for your health. Though healthier, many men and women who have battled the bulge and won are left with excess sagging skin. Fortunately, body contouring can help by reducing excess skin after weight loss and improving self-esteem.
Yes: Body Contouring Benefits More Than the Body.
Several studies have shown that body contouring after weight loss offers psychological benefits as well. In fact, one recent study, published in the Journal of the American Society of Plastic Surgeons, found that people who undergo body lift procedures following major weight loss have reduced levels of depression and anxiety and a significantly improved quality of life.
It's only natural that you'd want your body to reflect the lifestyle changes you've made in order to lose weight. Moving on from being overweight can be emotionally difficult with the everyday physical reminder of stretched and surplus skin. Being overweight stretches and weakens skin while also creating fat deposits in areas where diet and exercise will not help to tighten or tone. Because of this, body contouring may be the only way to achieve the look you desire.
I've Lost the Weight, Now What?
Once you've reached your ideal weight, targeted body contouring techniques may be performed to remove excess sagging skin and improve the appearance of underlying support tissues. Depending on your individual goals and unique anatomy, we can develop a plan that best suits your needs.
Typically, body contouring treatment plans involve one or a combination of procedures, including: a body lift to address excess skin on the lower body, an arm lift to improve the shape and tone of the upper arms, a tummy tuck to directly address excess abdominal skin, or a breast lift for restoring firmness and improving breast position.
Total Transformation
If you've lost a significant amount of weight but you're still affected by sagging skin, body contouring may be the final step in your weight loss journey. These types of procedures are normal and an investment in your long-term physical and emotional well-being. Some of our favorite patient success stories are stories of weight loss and body contouring used together to align the outer you with the true inner you!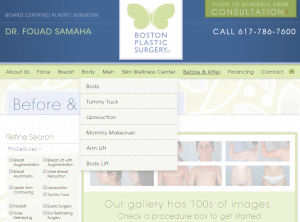 We are pleased to announce that we've just launched our newly redesigned website. We've been hard at work to bring you a fresh new look, easy-to-navigate layout, and updated information about our services—we hope you like what you see!
Some of our new and improved features:
Responsive, mobile-friendly design means you can browse anywhere, anytime, and on any device.
New menu design with everything you need easily accessible.
Enhanced Before & After photo gallery that enables you to "favorite" images so you can find inspiration in previous patient photos, compare results, and help frame your own goals.
Updated Patient Resources
We have reorganized and updated our patient resources to provide you with helpful, pertinent information while you are researching and planning a procedure of interest. Find in-depth information about the wide variety of procedures, treatments, and services we offer at Boston Plastic Surgery.
Our goal is to provide you with the information you need, including:
Overviews of procedure choices, options, and price ranges
What to expect during your consultation
Advice for aftercare and recovery
We want you to have access to relevant, useful content as you consider choosing us to meet your aesthetic goals.
Whether you're planning your surgery, exploring your options, or simply thinking about cosmetic surgery, we invite you to explore our new website! And, as always—we encourage you to reach out with any comments or questions.
A recent video has been making its rounds and awing viewers with what is being dubbed "electronic makeup." Producer Nobumichi Asai and a team of CGI experts, makeup artists, and digital designers used projection mapping technology to project photorealistic graphics onto a model's moving face. The result? Real-time projections of traditional makeup, geometric patterns, and futuristic face masks that move seamlessly with the model.
The shape and contours of the model's face were mapped after an initial scan, allowing the projection to follow her movement and retain precise placement on her face. After the scan, graphics were overlaid and adjusted in real-time to produce an eerily-realistic makeup application that responds to head movement, changes in facial features, and the opening and closing of her eyes.
Although the results are fascinating, many are wondering if there are any real world applications. For us, the question of how this technology could be used to help our patients is at the forefront.
Previewing plastic surgery results isn't a new arena. 3D simulation technology for cosmetic surgery graces many consultation rooms, allowing patients a sneak peek at their potential breast augmentation or facial surgery results. Here at Boston Plastic Surgery, Dr. Samaha utilizes Axis 3D portrait technology to help patients visualize surgical results on their own bodies. From trying breast implants on for size to seeing how facial treatments can change your appearance, this technology has become an invaluable tool in the process of designing plastic surgery treatment plans that are tailored to an individual's anatomy.
But where is it going next? With Asai's groundbreaking face mapping, is there potential for a medical application? We like to think so. Once the technology is honed, perhaps surgeons can use it to show patients what their results may look like, all in real time. Imagine going to a surgeon's office to discuss options for reducing signs of aging and being able to see the possible results of a facelift projected onto your own face. This technology could allow patients to see results as they move their facial muscles, enabling them to witness how surgery will change their appearance.
We might not be there yet, but it's exciting to think of the possibilities. The plastic surgery field is changing daily thanks to newly emerging technology, and no one knows where it may be heading.
What technology would you like to see at your surgeon's office in the future?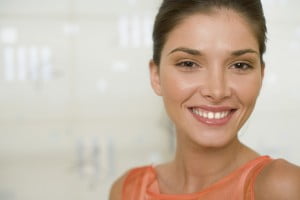 Eventually, we all experience the effects of aging on our faces, some of us earlier than we would like. If you're wondering whether you are too young for a facelift, it may be a good indication that it's time to begin exploring your options. A well-executed facelift can help patients as young as 40 turn back the clock and maintain a refined, youthful appearance.
Don't focus on how old you are; we all age differently
How we age is as individual to us as our fingerprints. Genetics, diet and lifestyle, and even environment all influence how young or old a person may look for his or her age. A 40-year-old with not-so-great hereditary traits or lifestyle habits may have more advanced sagging and facial wrinkles than a 50-year-old in good health who wears sunscreen daily.
Ultimately, there is no universal right age for a facelift—only the right time for you. If you are starting to see sagging of the cheeks, lower face, or neck, then it's a good time to consider facial rejuvenation, regardless of how old you are. In fact, some of the best-looking older celebrities maintain their ageless appearance by catching these signs of aging early, before a dramatic change is required.
Having a facelift earlier in life has its advantages
The truth is, having a facelift when you are younger has many benefits. Because the skin's elasticity and underlying tissue volume are still relatively good in your 40s, your surgeon can achieve better, more natural-looking results. Also, turning back the clock early means you'll enjoy the results for that many more years. Younger patients also typically heal more quickly and carry fewer risk factors going into surgery.
Younger patients have more options
Taking a proactive approach to treating early signs of aging gives you a wider range of choices, allowing you to get excellent results with a less costly treatment plan.
If you are mainly bothered by early jowling around the lower cheeks and neck, a mini facelift can be an excellent option. With smaller incisions and less downtime than a full facelift, a mini facelift can still help you look years younger and even postpone your need for future treatments. Neck contouring alone may also be an option, if that area is your primary concern.
Non-surgical alternatives
Non-surgical injectables like BOTOX® or Juvéderm® are excellent for treating specific facial wrinkles, such as frown lines, crow's feet, or marionette lines. While injectables cannot provide the lifting that comes with a surgical procedure, they are ideal for treating certain types of wrinkles. Injectables may also be used to complement surgical rejuvenation. Additionally, treating the skin's surface with a chemical peel or physician-grade topical products can give you a more youthful glow.
If you're unhappy with the way your face is aging, consulting with a qualified plastic surgeon is the first step. Contact us today to schedule a consultation with Dr. Samaha, who can help you design the best treatment plan to meet your goals.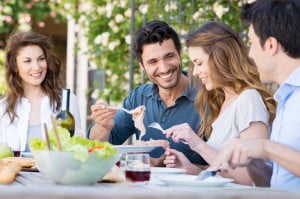 A delicious way to celebrate the perfect partnership of salmon, dill, and tart citrus, this dish not only tastes great, but offers a mixture of healing ingredients. Salmon is packed full of protein, omega 3 fatty acids, and vitamin D—a combination that promotes your natural healing process and is also anti-inflammatory. The citrus in the recipe provides a wide range of benefits, from helping to balance the body's pH to offering anti-viral properties.
The original inspiration for this recipe was a dish I had at a restaurant in St. Thomas called "Salmon with Four-Citrus Sauce." I have tinkered with the preparation and made many variations over the past 20+ years, so there's no telling how close the current version would be to the original dish. One thing has stayed constant—it's always delicious! Best of all, it requires very little preparation and can be made in one pan as a quick restorative dinner or to enjoy with company.
Preparation Time: 10-15 minutes
Cooking Time: 10-15 minutes
Serves:Four
Ingredients
4 Salmon Fillets, preferably wild-caught 3 Medium Shallots Fresh Dill Lemons Orange, Grapefruit, and/or Lime Juice (the more citrus the better!) White wine, such as Sauvignon Blanc, about 1/3 cup ButterCooked Rice (optional- see recipe for lemon-dill rice below) Orange or grapefruit slices (optional garnish)
Preparation
If enjoying with rice, get the rice started first as it takes the longest. Finely chop the shallots and mince a generous cup of dill, reserving some of the sprigs for garnish. Squeeze ½ cup of lemon juice and add another ¾ cup of other citrus juices—orange for a sweeter taste, grapefruit and/or lime for more tartness.
Season the salmon with kosher salt, coarsely ground black pepper, and some of the minced dill.
Cooking
Heat a large pan over medium-high heat and melt a tablespoon of butter. Add the salmon, skin side down, and cook for about 2 minutes before turning the fillets over. After another 2 minutes—when the flesh side is slightly seared, but the inside is still a little soft—remove the salmon and reserve on a plate.
In the same pan, cook the shallots until soft and just beginning to brown. Add some white wine to deglaze the pan, stirring with a wooden spoon and picking up the brown bits, until it is reduced to a thin syrupy consistency. Add the lemon and other citrus juices and cook until reduced in half. See note below. Add the dill to the pan and put the salmon (and any juices that came out of it) back into the pan to warm and then serve on a plate or bed of rice with the sauce spooned over. Sprinkle with additional dill for brighter color and add dill sprigs and/or citrus slices for garnish.
Lemon-Dill Rice
Prepare about 2 cups of your favorite rice (I prefer Basmati). When it is fully cooked, stir in 1 tablespoon of butter, grated zest of 1 lemon, and some chopped fresh dill for an aromatic, flavor-packed rice to complement your salmon.
Note: If serving over rice, I don't let the sauce get too thick so that it can be absorbed by the rice. If you prefer to thicken the sauce, you can add 1-2 tablespoons of butter or use ½ teaspoon of cornstarch that is pre-dissolved in a small amount of cold water.
Curious about the benefits of Botox, but unsure if you're ready to take the plunge? Now you can follow one of our patients as she undergoes a comprehensive non-surgical treatment plan.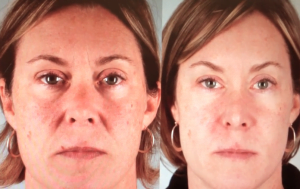 Meet Kelly. At age 42, Kelly was beginning to notice the typical early signs of aging: wrinkles around her nose, mouth, and eyes, dull skin, and a general tired appearance. Ready to revitalize her look, she requested treatments to improve her complexion, lessen the appearance of facial lines, and add volume to her thin upper lip.
She agreed to let us document her journey over the course of a year so you can see firsthand how non-surgical treatments like Botox, Juvéderm, and skin resurfacing can help someone like you look younger without a facelift.
Phase 1: Fighting Frown Lines & Refreshing the Upper Face
The first step in Kelly's treatment plan was to address lines around her forehead and glabellar region (between the eyebrows) using Botox. As an injectable neurotoxin, Botox works by relaxing the muscles responsible for frown lines, crow's feet, and other wrinkles, mainly in the upper face.
After discussing with Kelly her goals for the procedure and creating a plan to produce the desired effect, we administered a series of injections to treat the areas. Botox typically takes 10-14 days to settle and show complete results, so we invited Kelly back for her follow-up appointment two weeks later to evaluate the results and plan our next step. Watch the first segment of Kelly's transformation here.
Phase 2: Volumizing and Softening the Lower Face
For the second part of Kelly's transformation, it was time to discuss a strategy to address lost volume in her mid to lower face. Dermal fillers, which are injected beneath the skin to add fullness to facial features, are well-suited to this job. When used in tandem, Botox and fillers can each enhance the results of the other, delivering more satisfying results than any single treatment—this is our goal for Kelly.
We agreed to start with Juvéderm to soften her deep nasolabial folds. Juvéderm will last between 9 months to a year and takes about three months to fully settle in, meaning Kelly will continually see improvement for some time after her initial treatment.
Behind the Scenes Skincare
During each phase of her transformation, Kelly has met regularly with our Aesthetician for laser skin resurfacing and chemical peels to address her skin concerns and to plan a good at-home skincare routine to help maintain her rejuvenated appearance. As you can see in the second segment, this personalized combination of Botox, fillers, and skin care has made a dramatic difference in helping Kelly look younger and fresher without a facelift.
Why not begin your own youthful transformation?
If you'd like to make some of the same improvements that Kelly has enjoyed, now is the perfect time to get started. We're offering exclusive summer injectable specials for you! When you try VOLUMA today, you can receive $100 off of your next Botox treatment. Call us today at (617) 786-7600 to set up your consultation and begin your journey.
Be sure to stay tuned to see more amazing results from Kelly's year-long transformative adventure.