Non-Surgical Fat Reduction in Boston
Most of us have a stubborn "problem area" where we'd be happy to see less fat. However, many of us don't have time to fit liposuction surgery—and downtime—into our lives. If you have a pocket of fat that won't budge no matter what you do and how much you exercise, CoolSculpting may be the perfect treatment to help you shed stubborn fat and enjoy a slimmer shape.
CoolSculpting® is a 100% non-surgical fat reduction treatment that selectively freezes and destroys fat cells, helping patients spot-reduce problem areas with no downtime and long-lasting results.

How CoolSculpting reduces stubborn fat without surgery
CoolSculpting uses a proprietary technology called "cryolipolysis." During treatment, intense cold is delivered to the fatty tissue, chilling fat cells to the point where they begin to die off. Because fat freezes at a higher temperature than skin, muscle, and nerve, CoolSculpting can effectively destroy fat cells while leaving surrounding tissues unharmed. Your body then eliminates the destroyed fat cells naturally over 2 to 3 months following treatment.
Learn how CoolSculpting works
Learn more about how CoolSculpting works, and what results are possible, in this short video:

Where on the body can CoolSculpting be used?
CoolSculpting is FDA cleared to reduce subcutaneous fat on many areas of the face and body, including:
Abdomen (muffin top or belly pouch)
Hips & flanks (lovehandles)
Inner and outer thighs
Back fat (bra rolls)
Upper arms
Under the buttocks (banana rolls)
Beneath the chin
Fat pads above the knees
How much fat can CoolSculpting remove?
Every patient is different, but clinical studies have shown that a CoolSculpting treatment can reduce the size of a fatty bulge by up to 25%.
CoolSculpting is not a weight loss procedure, nor is it the best option to treat a large amount or area of fat. CoolSculpting is excellent for spot-reducing small to moderate fat bulges. For patients who are at a healthy body weight and want to reduce in one or two specific areas, CoolSculpting can be a great solution to help achieve their goals.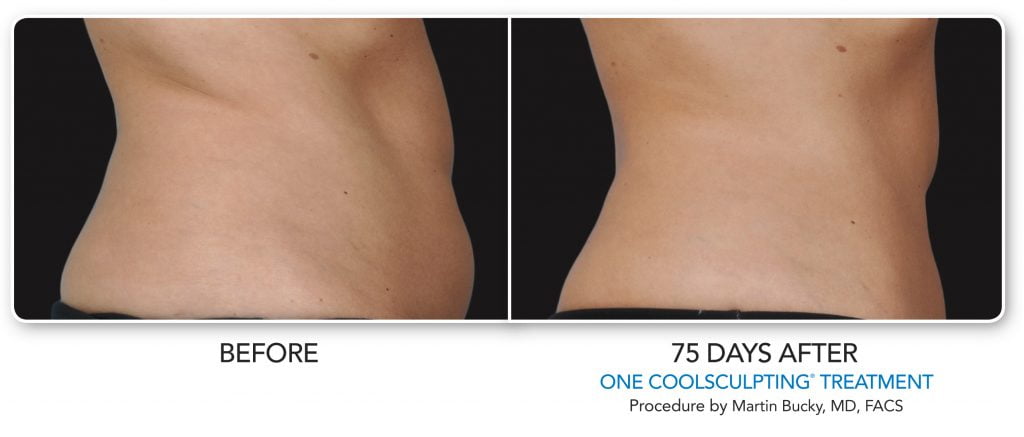 Before & after photos courtesy Zeltiq, inc.*
What to expect with CoolSculpting treatment
We perform CoolSculpting during a regular office appointment at Boston Plastic Surgery. After reviewing your treatment goals, we will help you get settled into a comfortable treatment chair, and prepare you for treatment by applying a gel pad to the treatment area to protect your skin. You may feel some pressure, a "pulling" sensation, and intense cold for about 5 to 10 minutes after the CoolSculpting applicator is placed on the treatment area; after these sensations subside, the remainder of treatment feels reasonably comfortable.
Typically, CoolSculpting takes about 35 minutes to perform. At Boston Plastic Surgery, we offer the CoolAdvantage applicators for a more comfortable treatment in nearly half the time, as well as Dual Sculpting, allowing you to have 2 areas treated simultaneously and significantly reducing your treatment time. You can return immediately to your normal routine following treatment. It's normal to feel some residual tingling and numbness for a few days after CoolSculpting as your tissues adjust after the period of intense cold.
When will I see results?
It takes a little time for your body to eliminate all of the destroyed fat cells as waste, and results after CoolSculpting come in gradually. The majority of patients report noticeable improvements beginning about 2 weeks after treatment, with final results evident after 3 months or so. Many patients are satisfied with their results after their first CoolSculpting treatment; however, we can repeat treatment to achieve further fat loss, if desired.
Because CoolSculpting destroys fat cells, the results should last as long as you maintain a stable weight and a healthy lifestyle.
Ready to try CoolSculpting? Contact us to get started!
Dr. Samaha, Dr. Lee, and our experienced aesthetic professionals are excited to offer CoolSculpting as part of our extensive menu of non-surgical skin, face and body treatments. Contact us today to schedule your personal consultation and see what CoolSculpting can do for you.