All-in-one facial to clarify, rejuvenate and brighten your complexion

Could your skin use a little TLC? Whether you are bothered by fine lines, sun damage, acne or an overall dull complexion, the HydraFacialMD® can help you give your skin a fresh start. More than just a "feel good" facial, this award-winning treatment targets your specific skin concerns and can noticeably improve skin tone, texture and appearance after your first treatment.
Why consider a HydraFacial?
HydraFacialMD is a soothing treatment that uses a constant jet of water to exfoliate, flush out impurities, and deliver anti-aging serums. Because it uses water instead of harsh abrasives, chemicals, or heat, HydraFacial is a safe, effective treatment to help all skin types minimize sun damage and signs of aging and restore a healthy glow.
It's also one of our most convenient and comfortable non-invasive treatments. HydraFacial feels great on the skin, takes only 30 minutes to complete, does not irritate the skin, and provides immediately visible improvements with zero downtime. Plus, we can customize your HydraFacial to address the skin imperfections that bother you most, including:
Acne and oily skin on the face or back
Sun damage, hyperpigmentation and melasma
Fine lines and wrinkles
Large pores and texture problems
Puffiness and dark circles around the eyes
Because HydraFacial gets to work quickly, and it's maximum skin brightening effects can last for up to 7 days, it can be the ideal treatment to help you prepare for a special occasion.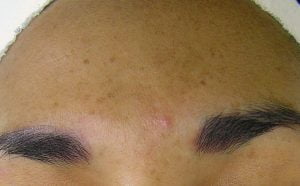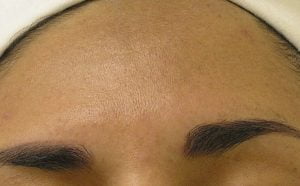 Before & after HydraFacial to treat sun damage. Photos courtesy of Edge Systems.*
What to expect with your Boston HydraFacial treatment
Your HydraFacial takes place at our Skin Wellness Center in Dr. Samaha's Boston offices. After discussing your treatment goals, our licensed medical aesthetician will prepare the HydraFacial to include a customized "cocktail" of serums to help exfoliate, nourish and protect the skin, and improve signs of aging.
Each HydraFacial treatment involves five key steps:
Vortex™-Exfoliation to remove dead skin cells
Vortex™-Peel to gently slough away damaged outer layers of skin
Vortex™-Extraction to unblock clogged pores
Vortex™-Boost to hydrate and firm the skin
Vortex™-Fusion to infuse protective antioxidant serums
Treatments takes 1 hour or less, and you can re-apply makeup and get right back to your day immediately after treatment–only now your skin will feel refreshed and radiant.
Boston HydraFacial Options & Pricing
We make it easy to customize your HydraFacial to your schedule and skincare needs with a variety of options. All combination HydraFacial treatments include LED therapy to help further minimize fine lines, sun damage and acne with no downtime.
30 Minute Treatments
Boost your skin's glow and still have time for lunch with our fastest HydraFacial treatments.
HydraFacial Only. $175
Anti-Aging HydraFacial w/ Dermabuilder + LED. $225
Britenol HydraFacial (for hyperpigmentation) w/ Britenol + LED. $225
45 Minute Treatments
Improve skin texture + boost healthy cell renewal in less than 1 hour.
Regenerative HydraFacial w/ CTGF (connective tissue growth factor) + LED. $255
60 Minute Treatments
Target more advanced skin problems and renew your radiance with a deluxe HydraFacial treatment.
HydraFacial for Problematic Skin w/ additional extraction + LED. Great for acne-prone skin! $225 (special pricing for younger clients)
Anti-Aging HydraFacial w/ lymphatic drainage + Dermabuilder + LED. $275
Britenol HydraFacial for Hyperpigmentation w/ lymphatic drainage + Britenol + LED. $275
Regenerative HydraFacial Treatment w/ lymphatic drainage + CTGF + LED. $325
4-Week HydraFacial Skin Renewal Program
Overhaul your problematic skin with our 4-week HydraFacial program. Come in once a week for  a deep-cleansing in-office treatment, then follow your custom at-home protocol to enjoy dramatically improved skin in one month. Priced from $550-$625.
Week 1: HydraFacial w/ additional extraction + LED
Week 2: Manual Cleanse w/ LED Blue & Red
Week 3: HydraFacial w/ additional extraction + LED
Week 4: Manual Cleanse w/ LED Blue & Red
How many treatments are needed?
It all depends on what you are hoping to achieve. Patients wishing to brighten their skin for a special occasion are typically satisfied with the results of just one treatment, while those wishing to diminish fine lines, sun damage and other visible signs of aging usually need a series of monthly treatments to achieve their desired results. Patients are often encouraged by the improvements they see after their first HydraFacial and choose to return for periodic follow-up treatment to boost their results.
Contact us to learn more about HydraFacial at a personal skin care consultation