Facelift Surgery at Boston Plastic Surgery
Lift & refine your face for a more youthful look
Your face is one of the most important aspects of your physical appearance, and unfortunately that's exactly where the signs of aging first become apparent. The undesirable effects of stress, sun damage, pollution, and generally growing older can take their toll on your face and neckline.
Boston Plastic Surgery's board-certified plastic surgeon Dr. Foaud Samaha is experienced in preserving facial structure while providing natural-looking facelift results for both men and women. Using advanced facelift techniques like the deep plane or short scar methods, Dr. Samaha can help turn back the clock to reveal a younger, more rejuvenated you.
Before & After

»
SEE Patient results in our gallery
Boston Facelift: Everything You Need to Know
What can facelift surgery correct?
A surgical facelift, also called a rhytidectomy, can turn back the clock by removing excess fat, tightening the underlying facial muscles, and re-draping the skin around the neck and face. When performed by a qualified plastic surgeon, a facelift can affectively treat the following aesthetic concerns:
Facial creases and folds
Heavy jowls
Fat deposits under the jawline
Sagging skin in the lower face and neck
Our experienced board certified plastic surgeon, Dr. Fouad Samaha, personalizes each facelift procedure to suit each patient's unique anatomy and goals so that he can reduce the signs of aging in the mid and lower face. His goal is to successfully provide you with a more natural look by using a variety of advanced surgical methods, including deep plane facelifts and short scar techniques.
Am I a good candidate for facial cosmetic surgery?
Speaking with a board certified plastic surgeon is the only way to determine if a procedure is right for you, but there are some general criteria that must be met for cosmetic surgery to be performed safely and successfully. If the below statements apply to you, you may be a good candidate for facial cosmetic surgery:
I am in overall good health.
I do not have any underlying conditions that will impact healing.
I am a non-smoker or willing to quit at least a month before surgery.
I have reasonable expectations about my results.
If these statements do not apply to you, rest assured there are a variety of non-surgical treatments and medical-grade products that can achieve the outstanding results you desire. Our expert medical aesthetics team looks forward to reviewing these options with you, along with risk, costs, and more important information in your personal consultation.
Is there a "right age" for a facelift?
We all age differently, so the "right age" for a facelift depends on the person. Having a facelift when you are younger does have many benefits: because the skin's elasticity and underlying tissue volume are still relatively good in your 40s, your facelift surgeon can achieve better, more natural-looking results. That being said, people who see signs of aging a bit later than others will probably be fine with waiting until their 50s or even 60s before they opt for a surgical facelift, and can achieve facial rejuvenation with non-surgical treatments and minimally invasive procedures until then.
Plastic surgeon Dr. Fouad Samaha's techniques
A Boston facelift can turn back the clock and considerably reduce undesirable changes by removing excess skin, tightening the underlying muscles and re-draping the skin around the neck and face. Surgical incisions are placed behind the hairline or in areas that follow the natural contour of your skin. There are several facelift techniques depending on your unique needs and aesthetic goals.
Deep plane facelift
The deep plane facelift is a specialized technique that addresses facial aging by tightening and raising the musculature and ligaments of the face, as well as fallen cheek pads, without placing any tension on the skin. The deep plane facelift technique allows Dr. Samaha to create a more natural-looking result when compared with the superficial musculo-aponeurotic system (SMAS) facelift technique used in most facelift procedures today. When performing facelifts for men, Dr. Samaha will adjust the facelift plane to preserve a masculine appearance.
Read why deep plane facelifts are all the rage right now!
Mini facelift
Under the right circumstances, a modified lift or 'mini facelift' may achieve your desired result by combining short-scar techniques with less invasive methods to lift the tissues and tighten the muscles of the face.
Facial fat grafting
Often used in conjunction with a facelift, facial fat grafting can help to fill in hollow areas and "re-volumize" the face for a more youthful appearance. During the procedure, fat cells are harvested from your own body, purified, and gently grafted. Commonly used to treat the lips, grooves between lips and cheek, and hollowed cheeks, fat grafting can be a successful, long-lasting option for soft tissue augmentation.
Volume restoration is essential in the process of facial rejuvenation, and Dr. Samaha can discuss with you the pros and cons of fat grafting vs. injectable fillers to help you achieve your goals.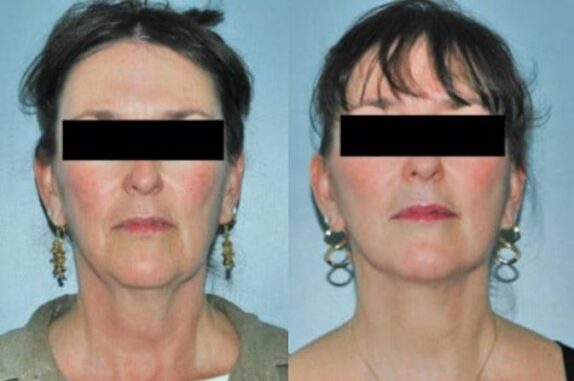 We're proud to offer facelifts for men too!
What is the cost of facelift surgery?
The average cost of a facelift in Boston is around $8000. Of course, the financial investment of facial surgery is a major factor for many patients. At Boston Plastic Surgery, we understand the complexity and investment of surgery. As such, we offer financing options to ease our patients' minds.
During your personal surgical consultation, you will be provided with a detailed cost quote for your facelift procedure. You can also call our office at 617.786.7600 if you would like an estimate of your cost prior to your consult.
Facelift results
The longevity of your facelift results will depend on a number of factors: your age, natural skin elasticity, lifestyle, smoking or stress, and how well you take care of your skin. That being said, facelift patients are typically happy with their look for 7 to 10 years (sometimes longer) after a standard facelift.
Secondary facelifts
Facelifts are incredible at achieving significant and noticeable facial rejuvenation, and while the results last many years, there is a point where aging and gravity will once again start to take their toll on your appearance. If it's been several years since your facelift, it's perfectly reasonable to consider a secondary facelift. At Boston Plastic Surgery, we have a lot of patients come to see Dr. Samaha who are interested in a second facelift and have questions about the procedure. Read more about secondary facelifts here.
Combining procedures for a more rejuvenated appearance
A facelift will not change the shape of your nose, eyes, forehead, or overall skin texture, but it can be combined with other procedures to achieve these results, depending on your goals. A facelift may be performed alone, or in conjunction with another surgical procedure such as eyelid surgery, rhinoplasty, brow lift, chin augmentation or lower face lift or neck lift. Note that if the problem areas are limited to the neck alone, an isolated neck lift may be recommended instead.
If you're interested in a complete full-body makeover, Dr. Samaha can also perform body reshaping through breast augmentation, tummy tuck, liposuction and more. Check out our Before & After page for the impressive results from Dr. Samaha's many happy patients!
Add on non-surgical treatments to enhance your results
It is common to combine a facelift or mini facelift with nonsurgical, non-invasive facial treatments to repair skin damage and concerns such as dark spots, wrinkles, fine lines and acne and reveal a more youthful appearance. Some of these procedures can even be performed simultaneously with your facelift, resulting in complete and comprehensive facial rejuvenation.
The team of experts and surgeons at our Boston aesthetic wellness center can help you find and achieve your larger cosmetic goals with an extensive menu of safe and proven facial treatments and procedures. Our medically-supervised skin health services include state-of-the-art laser procedures, phototherapy, microneedling, radiofrequency skin tightening, anti-aging peels, dermal injectables and more.
You can also achieve and maintain healthy, beautiful skin by incorporating the finest medical-grade skin care products into your daily regimen. Our licensed medical aestheticians look forward to designing a customized skin treatment plan specifically suited to your needs and goals.
Experience the best in care with Boston Plastic Surgery
Schedule your consultation with plastic surgeon Dr. Samaha
If you're interested in learning more about facelift procedures or other kinds of facial plastic surgery, check out Dr. Samaha's educational blog. And if you're ready to discuss all of your facelift questions in person, schedule a personal consultation with Dr. Samaha at Boston Plastic Surgery today. He will happily meet with you one-on-one to help you come up with the best ways to achieve a glowing, renewed appearance that will help you feel confident and beautiful from the inside out.
Areas Served: