A single treatment to reduce wrinkles, fade flaws, tighten skin and much more with no downtime!

Wouldn't it be great to have a magic wand that could erase years of stress, skin aging, and sagging and bring back your youthful, healthy complexion? We'll keep working on that, but for now, we have the next best thing: a revolutionary new microneedling treatment called Vivace™.
Vivace integrates microneedling technology with radiofrequency and LED to dramatically improve skin tone, texture and appearance on the face, neck, hands or body in as few as 1 to 3 treatments. Designed with patient comfort and safety in mind, Vivace is virtually painless, it is safe for any skin type, and there's no downtime.
What does Vivace RF microneedling treat?
Vivace can be an excellent option to treat many common skin concerns:
Fine lines & wrinkles
Stretch marks
Acne scars (including ice pick scars)
Mild skin sagging on the neck and jowls
How Vivace takes microneedling to a new level
Like all microneedling treatments, Vivace triggers your skin's natural healing process by creating microscopic openings in the skin with tiny needles. Your skin builds new collagen and elastin and increases cell turnover in response to these "microinjuries," resulting in a smoother, more even complexion within weeks. Three things make Vivace different from other microneedling procedures:
Enhanced skin tightening with radiofrequency
Radiofrequency (RF), which uses heat energy to boost collagen production in deeper skin layers, is known for being an effective, non-invasive option for skin tightening. Vivace integrates RF into your treatment, delivering controlled heat through the needles to further enhance collagen production and help you achieve smoother, firmer skin more quickly, while still enjoying a downtime-free treatment.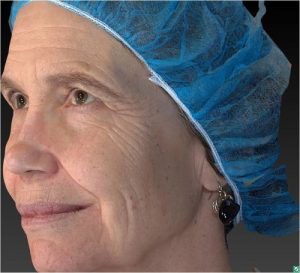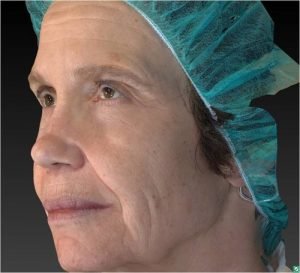 Before & after Vivace RF microneedling. Photos courtesy of Cartessa Aesthetics.*
It's virtually painless
Other microneedling pens and rollers can uncomfortably snag or tear skin during treatment. Vivace's 36 superfine, insulated gold-tipped needles are applied with the assistance of a robotic motor, resulting in a smoother application and precise, even treatment with no tearing and little to no bleeding. Our patients find Vivace painless after receiving a pre-treatment numbing cream as their only form of comfort enhancement, and go right back to their normal day after treatment.
LED technology calms redness and gives collagen production an extra boost
Vivace rounds out the skin rejuvenating properties of microneedling and RF with LED light therapy, which helps to calm inflammation and neutralize bacteria that can lead to acne breakouts. The red and blue LED wavelengths in Vivace can also help speed healing time after each treatment, so the normal, temporary "sunburn" appearance after treatment fades faster and you experience results more quickly.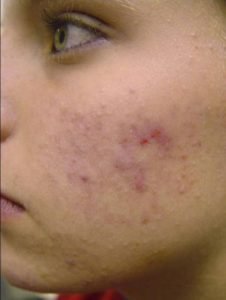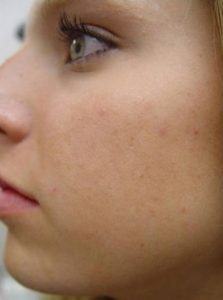 Before & after Vivace microneedling. Photos courtesy of Cartessa Aesthetics.*
What to expect at your Boston Vivace RF microneedling treatment
The first step is a skin evaluation with one of our experienced skin care experts. We will discuss your concerns and goals and determine the best treatment options for you based on these goals and your skin type. If Vivace is right for you, we will get started on treatment by cleansing your skin and applying a numbing cream to ensure maximum comfort.
Your provider will adjust the Vivace tip to ensure the needles reach the precise depth needed to enact your desired changes. She will then place the Vivace device on your skin, moving it in intervals to ensure thorough treatment. This process takes about 30 to 45 minutes, on average.
Following microneedling, we will apply a post-treatment serum and mask, taking advantage of the "open channels" created by Vivace, which are especially receptive to absorbing and utilizing serums. Most often, we will use Vivace's Boost Glide Serum, which nourishes skin and provides key amino acids to most effectively rebuild collagen and elastin during the healing process, followed by the Enhance Weekly Mask, which combines Binterin (CD99) peptides in an anti-inflammatory cooling fluid to promote fast, effective skin renewal after microneedling. This is an important step, similar to refueling after a tough workout to help your muscles recover more quickly.
Following each treatment, you can return to normal activity immediately. However, it's recommended that you take the rest of the day off of vigorous exercise to avoid overheating treated skin.
How many treatments will I need?
While you can expect improvements after your first Vivace treatment, results get better and better with each session. Three is the magic number for most patients to achieve fully satisfying results. Your skin will continue producing collagen and elastin at an accelerated rate for up to 6 months or longer, allowing you to enjoy smoother, younger-looking skin long after your Vivace treatment series.
We are excited to offer Vivace at our Skin Wellness Center at Boston Plastic Surgery, and we've seen some amazing results so far. To learn more about how Vivace can help your skin, call or contact us to schedule your personal consultation.
Areas Served: