Facial Plastic Surgery Specialist in Boston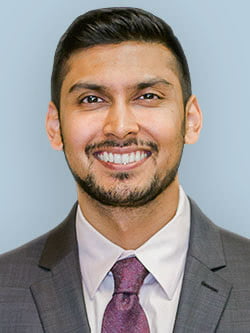 We are pleased to have Amar Gupta, MD on our team at Boston Plastic Surgery.  A true facial plastic surgery specialist, Dr. Gupta has highly specialized training in face, head, and neck surgery and has devoted his entire practice to this area of the body.
He brings to our patients at Boston Plastic Surgery a range of advanced techniques and procedure options for facial rejuvenation, facial contouring, rhinoplasty (including revision rhinoplasty), and facial reconstruction. Known for his attention to detail and thoughtful, conservative approach, Dr. Gupta aims to achieve his patients' desired improvements through careful, subtle changes.
"A beautiful, natural result starts the moment you meet a patient. Before working on a treatment plan, I take the time to get to know each patient to understand their concerns, what they would like to change, and how they hope a procedure will positively impact their lives. Then, we work together to devise a plan that will best accomplish these goals."Amar Gupta, MD
Education & training
Dr. Gupta earned his B.A. in Molecular and Cell Biology from U.C. Berkeley and his medical degree at Case Western Reserve University, where he was inducted into the Alpha Omega Alpha Medical Honor Society. He completed his residency training in the Department of Otolaryngology at Wayne State University in Detroit, completing a 5-year surgical residency in Head and Neck Surgery. Dr. Gupta was then selected for a Fellowship in Facial Plastic and Reconstructive Surgery at New York University, where he completed highly specialized training in cosmetic and reconstructive surgery for the face, head, and neck. He has published over a dozen peer-reviewed research articles in his specialty.
Having solely focused his training and practice on the intricate art and science of facial plastic surgery, Dr. Gupta is able to successfully achieve naturally appealing, lasting outcomes even with more complex or challenging cases.
Procedures available with Dr. Gupta
Rhinoplasty (including septoplasty and tip reshaping)
Revision rhinoplasty
Facelift (both minimally invasive and deep plane)
Upper and lower blepharoplasty
Brow lift (endoscopic and coronal)
Otoplasty (ear pinning, ear reshaping)
Chin augmentation
Botox and filler injections
Personal interests
Dr. Gupta has many talents outside the operating room as well. He is a licensed commercial pilot, able to fly single and multi-engine planes, and he is an avid musician, having played saxophone for over 15 years and drums for over 10.
"Aviation espouses many of the facets that attracted me to medicine and surgery and it is something I am very passionate about."Amar Gupta, MD
To schedule a consultation with Dr. Gupta, please contact us.