From Dr. Samaha's Kitchen: Easy Recipes for a Great Recovery
Posted on July 9, 2014

|

by Boston Plastic Surgery
It turns out that we have our own gourmet cook on hand: Dr. Samaha! In addition to being a skilled surgeon, he's also mastered many different cuisines. Because good nutrition is such an important part of a healthy lifestyle, we're sharing some of his culinary secrets in a series of posts featuring favorite healthy, tasty recipes. Here's the first—a tasty summer dish perfect for post-op patients. Enjoy!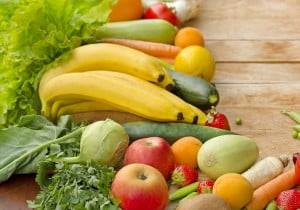 Eating a healthy diet can help prime your body to heal more efficiently after cosmetic surgery. In our experience, patients who eat mostly whole foods that are rich in vitamins & healthy fats have an easier, swifter recovery than those whose diet contains a lot of highly processed foods.
Although your body will be needing highly nutritious food during the initial days of your recovery, you're not likely to be up to cooking and shopping. Plan ahead by stocking your fridge ahead of time with a selection of healthy, easy-to-eat meals. Supplementing your post-surgery meal plan with some favorite comfort foods is okay too; just keep sugary and processed foods to a minimum.
We asked Dr. Samaha to share one of his favorite summer recipes that would meet all the requirements of a healthy recovery meal: easy to prepare ahead, delicious to eat, and full of superstar nutrients to help your body heal. His pick? A salad featuring summer's best: garden-fresh tomatoes, basil and sweet peppers.
Summer Salad with Brown Rice, Tomatoes, Basil & Spinach
The tomatoes, peppers, and spinach in this colorful salad are packed with the antioxidants Vitamin C, beta-carotene and lycopene to help your body heal at the cellular level after surgery (and fight premature aging from free radicals any time). The brown rice is also a great source of selenium (another antioxidant) and fiber, an important part of your diet all the time, but especially during recovery from cosmetic surgery—fiber helps to offset the constipating effect that pain medications can cause. Best of all, you can make this salad ahead of time and it's so good that everyone in your house will love it (and it's so easy you can probably convince your family members to make more).
1 c. brown rice
2 c. water
½ tsp. salter
2 Tbsp. olive oil
2 tsp. white balsamic vinegar
1 clove of garlic, minced
¼ tsp. cracked black pepper
2-3 medium sized tomatoes, seeded & diced
2-3 cups of fresh spinach leaves
1 yellow bell pepper, thinly sliced
1 medium cucumber, peeled & diced
1 handful fresh basil leaves, thinly sliced
8 oz. fresh mozzarella cheese, cubed
Salt & pepper to taste
1. Cook & cool the brown rice.
Bring rice, water and salt to boil in a large saucepan. Stir, reduce to a simmer and cook 30-45 minutes, or until water is mostly absorbed. Remove from heat and let sit covered for 10 minutes. Fluff with a fork, and let cool completely. You can do this a day or two ahead of time. (If possible, refrigerate the cooked rice overnight. This helps the grains separate nicely, making it easier to stir in the other ingredients.)
2. Whisk together the dressing.
When you're ready to make the salad, pour the olive oil in a small bowl. Slowly pour in vinegar while whisking constantly. Whisk in the salt, pepper, and minced garlic.
3. Mix the salad.
Place the brown rice in a large bowl; toss with the dressing so it coats evenly. Gently toss in the tomato, bell pepper, cucumber, basil, and fresh mozzarella. Add salt & pepper to taste.
4. Enjoy!
You can eat this salad immediately, or store it in the fridge for up to 5 days. It's also easy change up to fit your tastes. Try substituting 4 oz. of crumbled feta, minced fresh oregano, and lemon juice for the mozzarella, basil, and white balsamic vinegar, respectively to make this a Greek style dish. Or, top with grilled Maine shrimp for an extra boost in protein.
We hope you make this recipe yourself! Even if you aren't planning to have cosmetic surgery, this salad makes the perfect lunch on the go or easy supper on these hot summer nights. If you do give it a try, let us know what you think! We always love to hear from our community.