From Dr. Samaha's Kitchen: Salmon with Citrus-Dill Sauce
Posted on August 26, 2014

|

by Boston Plastic Surgery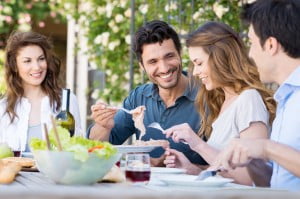 A delicious way to celebrate the perfect partnership of salmon, dill, and tart citrus, this dish not only tastes great, but offers a mixture of healing ingredients. Salmon is packed full of protein, omega 3 fatty acids, and vitamin D—a combination that promotes your natural healing process and is also anti-inflammatory. The citrus in the recipe provides a wide range of benefits, from helping to balance the body's pH to offering anti-viral properties.
The original inspiration for this recipe was a dish I had at a restaurant in St. Thomas called "Salmon with Four-Citrus Sauce." I have tinkered with the preparation and made many variations over the past 20+ years, so there's no telling how close the current version would be to the original dish. One thing has stayed constant—it's always delicious! Best of all, it requires very little preparation and can be made in one pan as a quick restorative dinner or to enjoy with company.
Preparation Time: 10-15 minutes
Cooking Time: 10-15 minutes
Serves:Four
Ingredients
4 Salmon Fillets, preferably wild-caught 3 Medium Shallots Fresh Dill Lemons Orange, Grapefruit, and/or Lime Juice (the more citrus the better!) White wine, such as Sauvignon Blanc, about 1/3 cup ButterCooked Rice (optional- see recipe for lemon-dill rice below) Orange or grapefruit slices (optional garnish)
Preparation
If enjoying with rice, get the rice started first as it takes the longest. Finely chop the shallots and mince a generous cup of dill, reserving some of the sprigs for garnish. Squeeze ½ cup of lemon juice and add another ¾ cup of other citrus juices—orange for a sweeter taste, grapefruit and/or lime for more tartness.
Season the salmon with kosher salt, coarsely ground black pepper, and some of the minced dill.
Cooking
Heat a large pan over medium-high heat and melt a tablespoon of butter. Add the salmon, skin side down, and cook for about 2 minutes before turning the fillets over. After another 2 minutes—when the flesh side is slightly seared, but the inside is still a little soft—remove the salmon and reserve on a plate.
In the same pan, cook the shallots until soft and just beginning to brown. Add some white wine to deglaze the pan, stirring with a wooden spoon and picking up the brown bits, until it is reduced to a thin syrupy consistency. Add the lemon and other citrus juices and cook until reduced in half. See note below. Add the dill to the pan and put the salmon (and any juices that came out of it) back into the pan to warm and then serve on a plate or bed of rice with the sauce spooned over. Sprinkle with additional dill for brighter color and add dill sprigs and/or citrus slices for garnish.
Lemon-Dill Rice
Prepare about 2 cups of your favorite rice (I prefer Basmati). When it is fully cooked, stir in 1 tablespoon of butter, grated zest of 1 lemon, and some chopped fresh dill for an aromatic, flavor-packed rice to complement your salmon.
Note: If serving over rice, I don't let the sauce get too thick so that it can be absorbed by the rice. If you prefer to thicken the sauce, you can add 1-2 tablespoons of butter or use ½ teaspoon of cornstarch that is pre-dissolved in a small amount of cold water.