Tom's Story: A Real Patient's MiraDry Experience
Posted on July 17, 2015

|

by Boston Plastic Surgery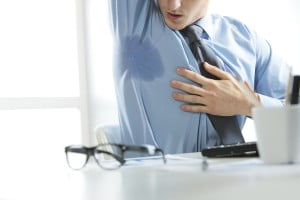 Our Boston Plastic Surgery patients are excited about MiraDry®, for good reason! This quick, nonsurgical procedure stops underarm sweat and odor—with no downtime or painful side effects!
We recently sat down and spoke with our very first MiraDry patient about his treatment, and now we're sharing his experience with you!
Sweating, while clearly natural, can be awkward and gross. Tell us your sweating life story.
I have been a heavy sweater my entire life. I'm a bigger guy and I "run hot"—my fiance calls me the human furnace. I can even sweat in the middle of winter. In high school, I was incredibly self-conscious about my sweating, and armpit stains were always my biggest fear. I tried every deodorant on the market, to no avail.
Later in life, I took on a high-stress career. As a TV News Executive Producer, I am always on the run, handling extremely stressful situations. I cannot tell you the number of times that I finished producing a breaking story, only to come down drenched in sweat. It was always an embarrassing tell-tale sign of how stressed I had been.
How have you tried to mitigate your sweating issues in the past? What was your level of success with the traditional methods?
I should have bought stock in RightGuard! I have tried every strength and brand of deodorants and antiperspirants to manage my sweating problem over the years, but I would still be a puddle by the end of the day.
How did you first hear about MiraDry?
I first heard about MiraDry online and was instantly interested in the treatment. I have always been self-conscious of my sweating and have explored other options for treatment in the past, so I was hopeful this would be the one to finally work.
Why did you decide to 'take the plunge' and give it a try?
I am getting married next May, and the ceremony is going to be outside with lots of celebrating and dancing—a sweater's nightmare. The last thing I wanted to worry about was my sweaty armpits or embarrassing pit stains in my photos.
Were you nervous about the procedure?
I wasn't nervous at all. I have known Dr. Samaha for years, and I knew that I was in good hands. The staff could not have made my experience easier. They were so kind and helpful.
What was your experience like during the MiraDry treatment?
My experience was great! It was not painful at all. The big thing that I want to stress is how pain-free it was. If you research MiraDry online, you will find some people who felt the Lidocaine shots were quite painful. Dr. Samaha used a feathering technique for me, and it was the easiest, simplest procedure imaginable. At no point did I feel pain.
What was your recovery like?
My recovery was much easier than expected. I kept ice on the treated areas for the first 24 hours, and also applied ice before bed for the first few nights. I really found that it helped. I know that the first 24 hours are important, but I also really thought that a little ice after the fact went a long way! Within a week, most of the swelling was gone; within two weeks, it was like I had never had the surgery at all.
What was your experience like with Dr. Samaha and Boston Plastic Surgery?
My experience was wonderful. I felt so comfortable the entire time, and the staff was so professional and knowledgeable. I left feeling like I had known everyone for years.
What are you looking forward to now that you would have dreaded pre-MiraDry?
The obvious answer is my wedding! I cannot wait to walk down the aisle and not have to worry about sweating under my arms. I cannot wait to dance at my reception without having to worry about seeing the sweat in pictures. I will be able to raise my hands and celebrate, without having to think twice!
Would you do it again?
I would do it again in an instant! This was one of the best decisions of my life. I brag to everyone I know, letting them know that they have to get MiraDry too!