What Does "Looking Younger" Look Like? We'll Show you!
Posted on July 29, 2014

|

by Boston Plastic Surgery
Curious about the benefits of Botox, but unsure if you're ready to take the plunge? Now you can follow one of our patients as she undergoes a comprehensive non-surgical treatment plan.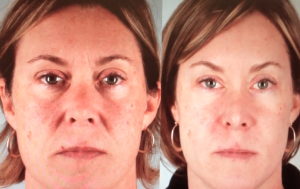 Meet Kelly. At age 42, Kelly was beginning to notice the typical early signs of aging: wrinkles around her nose, mouth, and eyes, dull skin, and a general tired appearance. Ready to revitalize her look, she requested treatments to improve her complexion, lessen the appearance of facial lines, and add volume to her thin upper lip.
She agreed to let us document her journey over the course of a year so you can see firsthand how non-surgical treatments like Botox, Juvéderm, and skin resurfacing can help someone like you look younger without a facelift.
Phase 1: Fighting Frown Lines & Refreshing the Upper Face
The first step in Kelly's treatment plan was to address lines around her forehead and glabellar region (between the eyebrows) using Botox. As an injectable neurotoxin, Botox works by relaxing the muscles responsible for frown lines, crow's feet, and other wrinkles, mainly in the upper face.
After discussing with Kelly her goals for the procedure and creating a plan to produce the desired effect, we administered a series of injections to treat the areas. Botox typically takes 10-14 days to settle and show complete results, so we invited Kelly back for her follow-up appointment two weeks later to evaluate the results and plan our next step. Watch the first segment of Kelly's transformation here.
Phase 2: Volumizing and Softening the Lower Face
For the second part of Kelly's transformation, it was time to discuss a strategy to address lost volume in her mid to lower face. Dermal fillers, which are injected beneath the skin to add fullness to facial features, are well-suited to this job. When used in tandem, Botox and fillers can each enhance the results of the other, delivering more satisfying results than any single treatment—this is our goal for Kelly.
We agreed to start with Juvéderm to soften her deep nasolabial folds. Juvéderm will last between 9 months to a year and takes about three months to fully settle in, meaning Kelly will continually see improvement for some time after her initial treatment.
Behind the Scenes Skincare
During each phase of her transformation, Kelly has met regularly with our Aesthetician for laser skin resurfacing and chemical peels to address her skin concerns and to plan a good at-home skincare routine to help maintain her rejuvenated appearance. As you can see in the second segment, this personalized combination of Botox, fillers, and skin care has made a dramatic difference in helping Kelly look younger and fresher without a facelift.
Why not begin your own youthful transformation?
If you'd like to make some of the same improvements that Kelly has enjoyed, now is the perfect time to get started. We're offering exclusive summer injectable specials for you! When you try VOLUMA today, you can receive $100 off of your next Botox treatment. Call us today at (617) 786-7600 to set up your consultation and begin your journey.
Be sure to stay tuned to see more amazing results from Kelly's year-long transformative adventure.